SAS Member
Join Date: Jan 2016
Location: ontario
Gender: Female
Posts: 7
social anxiety sucks, is there anyone that can help?
---
So I'm new to this site someone told me that this might be helpful so here I am.
A little bit about me I'm a 24 year old female living in Ontario that has sever social anxiety problems and PTSD from years of being abused by my dad and exís and being told Iím a stupid piece of **** which has caused my life to be really ****tyÖÖ.. Lately my anxiety has been getting worse due to the pressure everyone is putting on me to go back to school (I dropped out of high school at an early age due to my sever anxiety and couldn't attend my classes) But now that I'm 24 everyone is saying that I should go to college before I get any older or I will just be a low life failure. But I don't know if I can handle school I can't make any friends and I don't want to look like some outcast loser. And I honestly donít think Iím smart enough due to the years I have been told I wasnít and they fact I never finished high school. Am I the only one that is struggling with no wanting to go to college or is that normal with people with sever anxiety? Like if it was a small college that might be easier but the only one that has the course I want is Fanshawe >_> Also is 24 to old be finally going to school? I don't want to be the oldest person there and it just makes me feel pathetic that I didn't get my **** together sooner.


Another dilemma I have is I want to work in mental health or the health field in general, but I was told that "freaks with social anxiety or anything with mental health issues can't work in the health field* so I'm afraid to go see an government funded doctor (the ones the family doctor sends you to) because I don't want to have a file for future employers to get a hold of, also I donít think I would be able to go to my male doctor and ask for a referral cause I have a fear of being judged, and I can't afford the private therapist as my job doesn't pay much. Is there any way to get rid of sever social anxiety without any help?
Socializing with myself
Join Date: Oct 2011
Location: New York, Westbury.
Language: English
Gender: Male
Age: 27
Posts: 4,744
http://www.socialanxietysupport.com/...#comment387209
http://www.socialanxietysupport.com/...ncepts-134209/
How the governments mislabeled us as having self hatred towards our own programmed behaviors, not knowing that the people who aren't capable of controlling their own innate behaviors are considered as normal people, who lived their daily life being able to communicate and live without fear of being judge by others, because their mental process are being electromagnetically reprogrammed by Artificial Intelligence.
When you fear human errors, you will be considered as having Social Anxiety.
This is false, it's incorrect.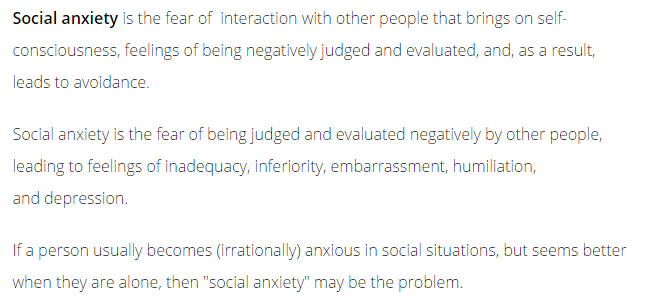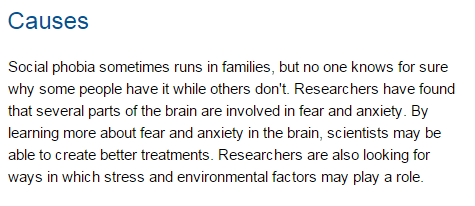 They can't find a way to electromagnetically reprogrammed a certain area of our mental process/neurological process, so they give us antidepressants to help sustain our triggerment to a strong retraction towards the reprogrammed behavior patterns & perceptual awareness of people whose's been manipulated by a supercomputer 24/7.
---
Multi-Agent Quantum AI Computers governing humanity 24/7 using Quantum Cryptography Satellites to run a thought interval to generate cryptographic keys to refresh key information into thoughts to channel the communication 24/7.

NSA Software Engineers & NASA computationally remapping buildings, jobs, relationships, wealth, education, and income using bio intelligence system to manage citizens time & events.


No. I relate to you. I have PTSD as well and trust me when I say that complicates things including your anxiety. It's hard, hard as ****. Things are difficult and will be. I couldn't see myself ever sincerely getting better without professional help. I hope the best for you and you get the help you need. If you ever want to talk, feel free to message me.
---
Vulnerability is a feast. Don't let them see, don't let them see.
Posting Rules

You may not post new threads

You may not post replies

You may not post attachments

You may not edit your posts

---

HTML code is Off

---